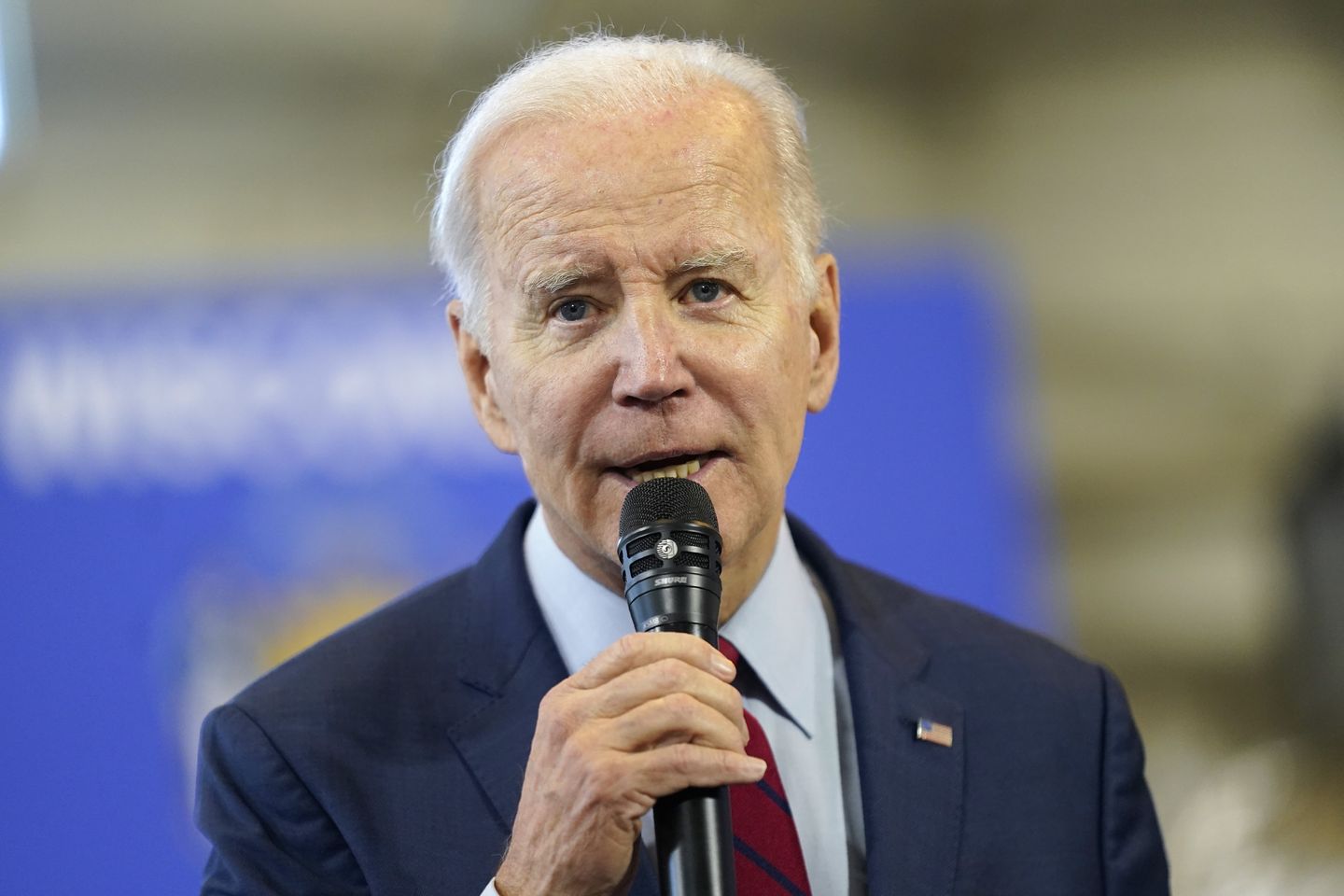 To hear President Biden tell it, the world seems like a relatively safe place.
A host of high-stakes foreign policy challenges and national security threats — from Chinese spy balloons to a slow-burning resurgence of Islamic terrorism — were surprisingly all but absent from Mr. Biden's State of the Union address Tuesday night, with a president who prides himself on the number of foreign leaders he's dealt with dedicating precious little time to the dangers facing America and its allies at a time of heightened tensions around the world.
There was no mention of Iran or its nuclear program. No mention of North Korea, nor of the Islamic State, al Qaeda, or other extremist groups beyond an early throwaway reference to U.S. efforts to combat terrorism. The price of insulin got as much attention as the threat from China in Mr. Biden's address — and came much earlier in the speech.
The decision to deliver a speech so light on foreign affairs is made even more surprising given the president's supposed gravitas on the issue, a reputation earned by his dozen years as the top Democrat on the Senate Foreign Affairs Committee. Mr. Biden has insisted that experience makes him an especially qualified commander-in-chief, and he would surely once again tout his foreign policy credentials in his still-hypothetical 2024 reelection campaign.
But if Mr. Biden plans to make foreign affairs a centerpiece of the second half of his term, one wouldn't know it from Tuesday evening's speech.
There was no mention of Afghanistan, which is once again under the iron grip of an extremist Taliban government that has rolled back women's rights and failed to rein in terror groups operations in the country after Mr. Biden pulled U.S. troops out in August 2021.
Iranian dissident groups privately grumbled that Mr. Biden's address made no mention of the Tehran regime, the stalemated talks over a new nuclear agreement or Mr. Biden's plans to deal with Iranian challenges to U.S. allies and interests across the Middle East.
"It is a first for a U.S. president to reduce the United States' global role to an afterthought" in a State of the Union speech, wrote Marwan Bishara, senior political analyst for Al Jazeera, in a commentary Thursday.
But most glaring Tuesday night was the omission of the sage of the Chinese Communist Party's alleged surveillance balloon, which flew over North America last week and has become the latest flashpoint in the increasingly tense U.S.-China relationship.
Mr. Biden spoke of the balloon only in broad terms despite the incident having dominated news coverage for days leading up to the State of the Union and amid withering criticism from lawmakers and national security analysts who say the administration made a grave mistake by not shooting down the balloon sooner. Mr. Biden let the spycraft travel coast to coast before giving the order to take it out Saturday over the Atlantic Ocean.
"I will make no apologies that we are investing to make America stronger. Investing in American innovation, in industries that will define the future, that China intends to be dominating," Mr. Biden said.
"Investing in our alliances and working with our allies to protect advanced technologies so they will not be used against us. Modernizing our military to safeguard stability and deter aggression," the president said. "Today, we're in the strongest position in decades to compete with China or anyone else in the world, anyone else in the world. I am committed to work with China where we can advance American interests and benefit the world. But make no mistake about it: as we made clear last week, if China threatens our sovereignty, we will act to protect our country. And we did."
China says the balloon was on a civilian mission to collect weather data, but the U.S. contended its trip across sensitive sites from the Canadian border to the Atlantic coast was a spy mission. 
To be fair, the president did not shy away from discussing the 21st-century-defining competition between Washington and Beijing. But he virtually ignored the already significant fallout stemming from the balloon saga and how that will impact the economic, diplomatic, cultural and military aspects of the U.S.-China relationship moving forward.
Just hours before the State of the Union, Pentagon officials revealed that Chinese Defense Minister Wei Fenghe has refused phone calls from Defense Secretary Lloyd Austin in the days since the shootdown. That refusal represents a serious breakdown in communication at the very highest military levels of the world's two top powers.
The already icy diplomatic relationship between the countries has also taken a significant hit. A planned trip by Secretary of State Antony Blinken to Beijing for high-level talks last weekend was called off at the last minute after the balloon was spotted high over the western United States.
Missed opportunity
Critics say Mr. Biden missed an opportunity to send a stronger message to China while also only scratching the surface when discussing the Russia-Ukraine war, which is now nearing its second year.
"Forget great-power competition. Forget China violating American airspace and largely ignore Europe's deadliest conflict since World War II. I will rest soundly knowing the commander of the free world is on top of the dastardly problem of resort fees," said Michael Rubin, a former Defense Department official and now a senior fellow at the conservative-leaning American Enterprise Institute, referring to Mr. Biden's State of the Union proposal to curb exorbitant fee costs at the nation's entertainment venues.
"We were safer as a country before that speech than we are after it," Mr. Rubin told The Washington Times on Wednesday.
Lawmakers also took aim at Mr. Biden for skirting the Chinese balloon issue, arguing that the American public would have welcomed their president explaining how he intends to keep the homeland safe from Communist surveillance.
"Americans who expected to hear about our vulnerability to spying by our top adversary, China, walked away without him even addressing the issue," Rep. Barry Loudermilk, Georgia Republican, said in a statement after the speech.
Al Jazeera's Mr. Bishara and others said the Biden speech, pitched to the interests of middle-class American voters and widely seen as an opening argument for a 2024 re-election run, largely skirted foreign policy because there was little political upside to addressing intractable issues.
"Hence the president, who seems keen on pursuing a second term, dialed down the costly global bravado in his speech and instead focused on 'made in America' growth and prosperity," Mr. Bishara said, citing one theory for the speech's imbalance.
Foreign Policy.com ran its analysis of the speech under the headline: "Spoiler alert: Foreign policy won't be a U.S. election issue."
Mr. Biden did speak at relative length about America's aid to Ukraine and its role in rallying the Western world to help Kyiv battle against Russian invaders. And while the president essentially promised that the U.S. will provide indefinite military and financial help to Ukraine, he offered no detail on Washington's big-picture plans to help bring the conflict to an end. 
"I spoke from this chamber one year ago, just days after [Russian President] Vladimir Putin unleashed his brutal war against Ukraine. A murderous assault, evoking images of the death and destruction Europe suffered in World War II," Mr. Biden said. "Putin's invasion has been a test for the ages. A test for America. A test for the world. Would we stand for the most basic of principles? Would we stand for sovereignty?"
"One year later, we know the answer. Yes, we would. And we did," the president said. "Together, we did what America always does at our best. We led."
Ukrainian Ambassador Oksana Markarova attended Tuesday night's address. Mr. Biden addressed the ambassador directly when he pledged continued U.S. support.
"Ambassador, we're united in our support for your country," Mr. Biden. "We're going to stand with you, as long as it takes."